Strong annual results for SUISA thanks to unflagging demand for music
In 2015, SUISA posted higher revenues from royalty collections than in the preceding year. Copyright earnings from domestic and international business totalled CHF 142.7 million, an increase of 1% over the previous year. The result was due largely to increased revenues from concerts and broadcasting. Of these revenues, SUISA allocates CHF 125 million to composers, lyricists and publishers of music in Switzerland and abroad. Thus, about 88 of every 100 francs taken goes to the rights-holders. With these strong annual earnings, the cooperative society ensures that music professionals are compensated fairly for use of their work.
Zurich, 8 June 2016 – Demand for music in Switzerland remains high. This is demonstrated by the strong annual results in 2015 reported by the Cooperative Society of Music Authors and Publishers in Switzerland. Particularly in Switzerland, SUISA revenues in the previous year reached new heights at CHF 132.7 million. This represents a 1.9% gain over the preceding year (CHF 130.3 million). Increased revenues from radio and television, and successful negotiations by SUISA in the concert business, were responsible primarily for the strong results. Sales from the distribution of music recordings on the internet, by contrast, remain weak.
About 88 of every 100 francs taken goes to the rights-holders
Thanks to these strong results, SUISA makes a substantial contribution to the financial well-being of composers, lyricists and publishers of music. They receive CHF 125 million from SUISA revenues for use of their music at concerts, on radio and television, by online service providers and private copies on electronic storage media, such as smartphones, MP3 players and tablets. Members of SUISA and its foreign affiliates also receive, as in the preceding year, an additional distribution of 7% on all regular disbursements in 2016.
Overall, the cooperative society distributes approximately 88 of every 100 francs of revenue to its members and foreign artists. Musical composers and lyricists in particular depend on regular income from their copyright societies. Unlike performers, authors and publishers do not appear on the stage and therefore do not receive regular concert fees.
Concert market still booming – good result for broadcasting rights
In terms of performance rights, SUISA posted an increase in billed rights for concerts. Revenues from concerts totalled CHF 46 million last year (compared with CHF 44.1 million in the preceding year). This is due in part to a strong concert market in Switzerland. In addition, last year SUISA successfully negotiated terms in the concert business, which among other things led to a retroactive collection. SUISA also posted gains in the broadcasting business, increasing revenues by 1% to CHF 64.6 million (previous year: CHF 64 million).
Growth in compensation entitlements – further potential in the online business
SUISA posted slight growth last year in terms of compensation entitlements. Revenues totalled CHF 8.9 million (previous year: CHF 8.6 million). In the online business, by contrast, there was a slight decrease in copyright revenues from downloads and streaming to CHF 5.6 million (previous year: CHF 6.1 million). This result was due in part to the fact that a share of last year's revenues from the streaming business was not able to be posted until January 2016. SUISA expects a normalisation of revenues in this area in 2016.
Revenues from the online distribution of music, however, remain at a low level. The reason is competition for the legal paid services from Spotify and Apple Music, illegal offerings and free services financed by advertising. Specifically, compensation for distribution on the most-used free channel YouTube is too low for rights-holders.
Appropriate costs for collective administration
Overall, revenue from royalty collections in Switzerland and abroad rose last year by 1% to CHF 142.7 million (previous year: CHF 141.3 million). Secondary income in 2015 totalled CHF 9.2 million. SUISA's total revenue for 2015 was therefore CHF 151.9 million (previous year: CHF 151.6 million). At CHF 27.4 million, administrative costs in 2015 were 2.5% lower than in the previous year, while the average cost deduction was 12.39%.
SUISA's administrative costs in 2015 were comparable to those in 2014 and thus within an appropriate range, as a study commissioned by the Swiss Federal Institute of Intellectual Property (IPI) confirmed in December 2015. Stricter state control, as proposed by the Federal Council in its draft copyright law revision in December 2015, is therefore not only unnecessary, but misguided. Rather, the ongoing copyright law revision should focus on solutions that ensure that rights-holders are compensated adequately for use of work, particularly online.
SUISA's Annual Report 2015 is available online at
http://www.suisa.ch/en/suisa/publications/annual-report.html
A comment on SUISA's Annual Report is available in German and French on the SUISAblog
http://blog.suisa.ch/de/nachhaltiges-wachstum-fuer-die-mitglieder/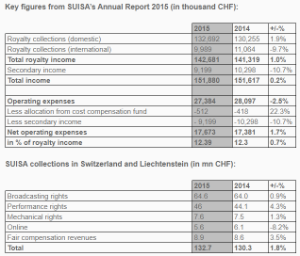 Further information:
For English- and German-language media:
Giorgio Tebaldi
Head of Communications SUISA
Tel. +41 44 485 65 03
E-mail: giorgio.tebaldi@suisa.ch
For French-language media:
Nicolas Pont
SUISA Legal Department
Tel. +41 21 614 32 26
E-mail: nicolas.pont@suisa.ch
About SUISA
SUISA is the cooperative society for composers, lyricists and music publishers in Switzerland and Liechtenstein. Its 35,000 members include music professionals from all disciplines. In Switzerland and Liechtenstein, SUISA represents the music repertoire of two million authors and publishers worldwide. It grants licences to use this repertoire to more than 90,000 customers.
With approximately 200 employees in Zurich, Lausanne and Lugano, SUISA generates a turnover of some CHF 152 million. As a non-profit organisation, it distributes the proceeds from licences to music authors and publishers after deducting the administrative costs. www.suisa.ch